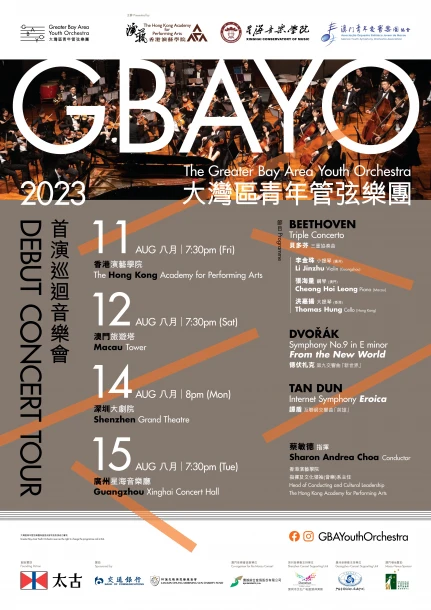 The Greater Bay Area Youth Orchestra Debut Concert 2023
Young musicians from the Greater Bay Area, brought together by the Academy, Xinghai Conservatory of Music and The Macao Youth Symphony Orchestra Association, will join hands to perform at the Hong Kong Jockey Club Amphitheatre of the Academy for the first event of the GBAYO Debut Concert Tour.
Friday, August 11, 2023 | 7:30 pm
Hong Kong Jockey Club Amphitheatre, HKAPA
Programme:
Beethoven: Triple Concerto

Dvorak: Symphony No.9 "From the New World"

Tan Dun: Internet Symphony "Eroica"
Ticketing: Details will be announced soon, please stay tuned.
Concert Tour:
Macao:
Saturday, August 12, 2023 | 7:30 pm
Theatre, Macau Tower
Shenzhen:
Monday, August 14, 2023 | 8:00 pm
Grand Theatre, Shenzhen Grand Theatre
Guangzhou:
Tuesday, August 15, 2023 | 7:30 pm
Symphony Hall, Guangzhou Xinghai Concert Hall
Conductor:
Sharon Andrea Choa


Sololists:
Violin: Li Jinzhu (Guangzhou)
Piano: Cheong Hoi Leong (Macao)
Cello: Thomas Hung (Hong Kong)
About GBAYO
The Greater Bay Area Youth Orchestra (GBAYO) brings together the most talented and dedicated young musicians from Guangdong, Hong Kong and Macau, aspiring to be one of the finest youth orchestras in the world. Established by The Hong Kong Academy for Performing Arts (HKAPA) with the support of the Swire Group as Founding Patron, GBAYO offers professional training and coaching by renowned professors and inspiring artists from around the world and provides a platform for young musicians to pursue the highest standards of orchestral performances.
Members of GBAYO are selected after rounds of competitive and comprehensive auditions. Over the two-week intensive residency, these music talents live and work together to achieve artistic excellence, exchange musical and cultural experiences, develop friendships, and, most importantly, enjoy music. Presented by HKAPA, Xinghai Conservatory of Music and Macao Youth Symphony Orchestra, GBAYO concludes the training programme with a tour of four concerts in Hong Kong, Macau, Shenzhen and Guangzhou.
As the music ambassadors for the Greater Bay Area within the global community, GBAYO represents the youthful creative forces to energise the arts and cultural scene with diverse and innovative performances.
The performance will run for about 2 hour and 5 minutes including a 15-minute intermission.
Audience is strongly advised to arrive punctually. Latecomers will only be admitted during the intermission or at a suitable break.
The presenter reserves the right to change the programme and substitute artists.