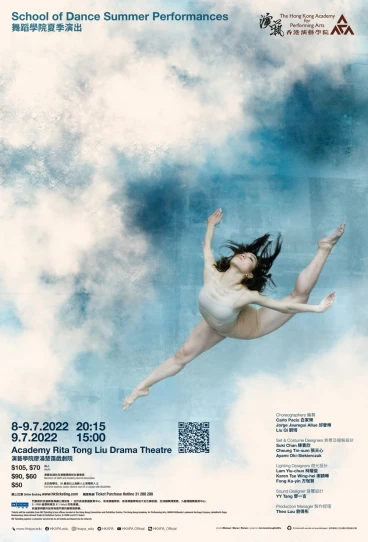 08 Jul (Fri) - 09 Jul (Sat)
08 Jul 2022 (Fri) | 20:15
09 Jul 2022 (Sat) | 15:00
09 Jul 2022 (Sat) | 20:15
Venue:
Rita Tong Liu Drama Theatre
Presenter:
The Hong Kong Academy for Performing Arts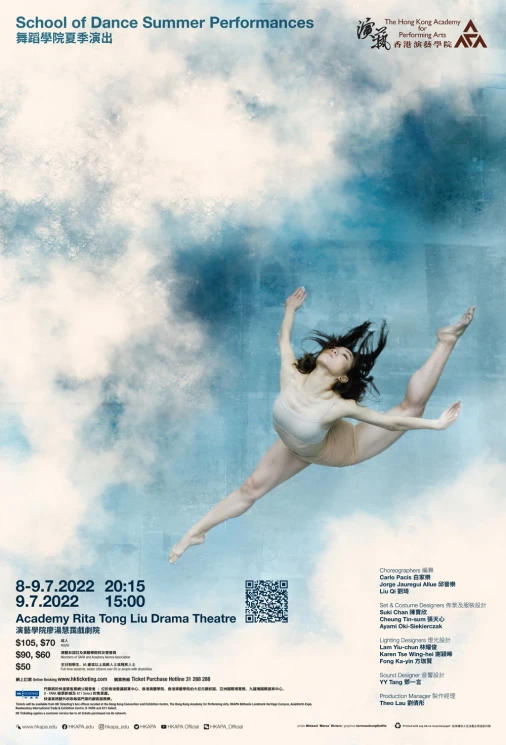 Choreographers:
Carlo Pacis
Jorge Jauregui Allue
Liu Qi
Set & Costume Designers:
Suki Chan
Cheung Tin-sum
Ayami Oki-Siekierczak
Lighting Designers:
Lam Yiu-chun
Karen Tse Wing-hei
Fong Ka-yin
Sound Designer:
YY Tang
Production Manager:
Theo Lau
Upon Calligraphy (Excerpts)
Upon Calligraphy is one of the most popular repertoire of Guangdong Modern Dance Company. Since its premiere in 2005, the work has had more than 100 performances around the world. It is a poem of movements, developed from the stylistic essence of five different Chinese scripts, Bone, Seal, Official, Regular and Cursive. The Washington Post described it as "full of meditative grace, sharp, cut-crystal physicality and languid dignity". This version of excerpts has been modified with the choreographer's permission, selected especially for HKAPA Chinese Dance students. With new video integrated, the water and ink in motion interact gracefully with dancers in different scenes.
The Acceptance of Being
All roads lead somewhere. We are a result of our past experiences and of who we want to be in the future. The choices we make and how these turn out are what we learn from and our interpersonal connections help us along the way. This work is a brief glimpse into what young people could be feeling and experiencing, regardless of the time or place. It gives us a chance to look into how they become themselves and their acceptance of being.
Lost Paradise
Some groups of people have survived the destruction of civilization.

All forms of technology have disappeared.

Different generations have succeeded each other on a planet that has regained its natural balance.

The forms of communication between them have been reduced to a protolanguage where onomatopoeias and sounds that imitate nature predominate.

However, during the night in their dreams they travel to the lost world that once existed and that they keep fragmented into a kind of melancholic and dreamlike collective consciousness.

Everyone keeps that place secret and unconsciously looks for it during the journeys that shape their nomadic life in search of sustenance and refuge.
First text: Extracts from a Mayan legend
Second text: Extracts from the dancers description about their personal paradise