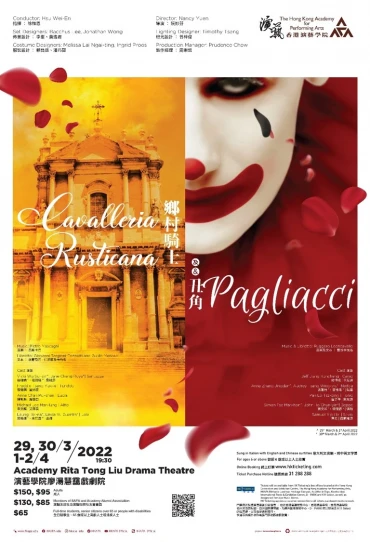 29 Mar (Tue) - 02 Apr (Sat)
29 Mar 2022 (Tue) - 30 Mar 2022 (Wed) | 19:30
01 Apr 2022 (Fri) - 02 Apr 2022 (Sat) | 19:30
Venue:
Rita Tong Liu Drama Theatre
Language:
Sung in Italian with English and Chinese surtitles
Remarks:
The production is suitable for audience aged 6 or above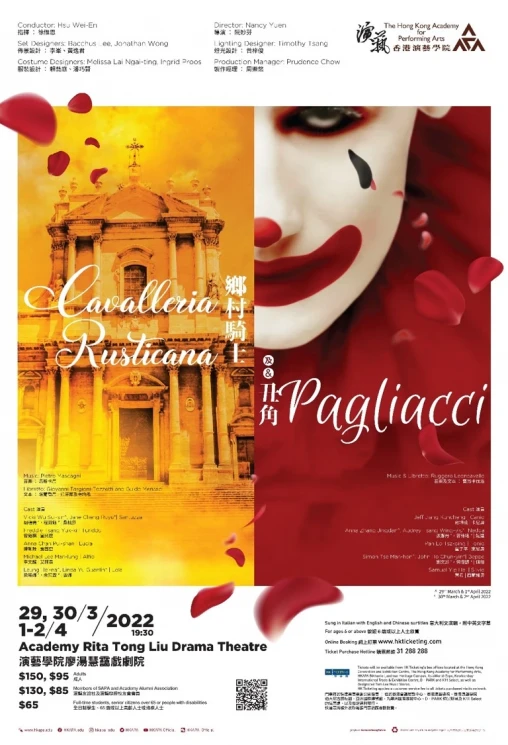 With the Government's Latest announcements on the extension of social distancing measures, all performance venues will continue to be closed until April 20, 2022. The Academy Opera: Cavalleria Rusticana & Pagliacci will be postponed or cancelled. Details will be announced on the Academy social media channels and website, please stay tuned.
Cavalleria Rusticana
Music: Pietro Mascagni
Libretto: Giovanni Targioni-Tozzetti and Guido Menasci
Cavalleria Rusticana is a story of infidelity and jealousy sets in Sicily on Easter morning. Santuzza thinks that her fiancée, Turiddu, has cheated on her and returned to his old lover, Lola, who is married to a wealthy wine merchant, Alfio. Acting out of jealousy, Santuzza exposes Lola's infidelity to Alfio, who becomes furious and challenges Turiddu to a fatal duel.
Pagliacci
Music & Libretto: Ruggero Leoncavallo
Based on an actual crime, Pagliacci is set in Italy. It tells the story of Canio, who heads an acting troupe touring the countryside. His wife, Nedda, is having a secret affair with a young man, Silvio, with whom she plans to run away. Tonio, a member of the troupe, has been trying his luck with Nedda, but she rebuffs him. In anger, Tonio tells Canio of Nedda's affair. Filled with jealousy and rage, Canio kills his wife and her lover while they perform on stage…
Director: Nancy Yuen
Conductor: HSU Wei-en
Assistant to Director: Lam Kwok-ho
Set Designer: Bacchus Lee, Jonathan Wong
Associate Set Designer: Cheung Tin-sum
Costume Designers: Melissa Lai Ngai-ting, Ingrid Proos
Lighting Designer: Timothy Tsang
Production Manager: Prudence Chow
Casts:
Cavalleria Rusticana
Santuzza – Vicki Wu Sui-sin^, Jane Cheng Ruyu*
Turiddu – Freddie Tsang Yuk-ki
Lucia – Anna Chan Pui-shan
Alfio – Michael Lee Man-lung
Lola –Leung Hei-na ^, Linda Yu Guanlin *
Pagliacci
Canio – Jeff Jiang Kuncheng
Nedda – Anna Zhang Jingdan^, Audrey Tsang Wing-yiu*
Tonio – Pan Lo Tsz-ping
Beppe – Simon Tse Man-hon^, John Ho Chun-yin*
Silvio – Samuel Yip Hei
^ March 29 & April 1, 2022
* March 30 & April 2, 2022
Students from the Department of Vocal Studies
Academy Symphony Orchestra