Academy Symphony Orchestra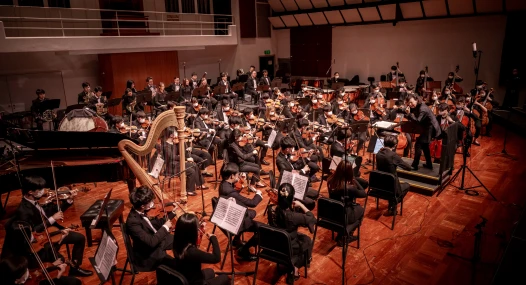 Within the HKAPA's School of Music, orchestral training is a significant part of the students' education. All students of orchestral instruments participate in the Academy Symphony Orchestra, whose weekly rehearsals cover the standard symphonic literature as well as contemporary works. In recent years, the Academy Symphony Orchestra has worked with the Australian Chamber Orchestra, and guest conductors such as Marko Ivanovi (Principal Conductor of the National Theatre Brno Opera), Pietro Mianiti (Principal Conductor of the La Scala Academy), Lio Kuokman, Patrick Furrer, Andrew Mogrelia, Eitan Globerson amongst many others. The orchestra members have toured to Beijing and Shanghai to join professional orchestral concerts and to Jerusalem and Taiwan to give chamber recitals. They also collaborated with the Hong Kong Sinfonietta in their Penderecki project and participated in the Hong Kong Philharmonic's "Share the Stage'' events. In November 2017, Maestro Jaap van Zweden, Music Director of Hong Kong Philharmonic Orchestra visited the Academy and rehearsed Tchaikovsky's Fifth Symphony with our students and the players from the HK Phil. With the Academy Choir, they performed Bach's Christmas Oratorio under the direction of Helmut Rilling. The Orchestra has a busy performing schedule every academic year including playing for our annual opera production.
Under the baton of Prof. Sharon Choa, the Orchestra was invited to perform in the Festive Korea 2016 Gala Concert presented by the Consulate General of the Republic of Korea in October 2016 at the Concert Hall of the Hong Kong Cultural Centre together with three international Korean violinist Hyuna Kim, violist Richard Yongjae O'Neill and cellist Clara Minhye Kim. In June 2017 the Orchestra joined forces with the Shenzhen Arts School Philharmonic Orchestra to perform in two concerts which were held in Shenzhen and Hong Kong respectively. In October 2017 the Orchestra visited Taipei National University of the Arts (TNUA) and gave a performance with the wind and percussion students from TNUA to critical acclaim. In June 2018 "Concerto Feast" was broadcast by RTHK Radio 4, showcasing the talents of the student soloists and the ensemble. In October 2019, the strings of the orchestra joint hands with their counterpart in TNUA and were invited to perform in their Kuandu Arts Festival in Taipei for a second time.
Academy Chinese Orchestra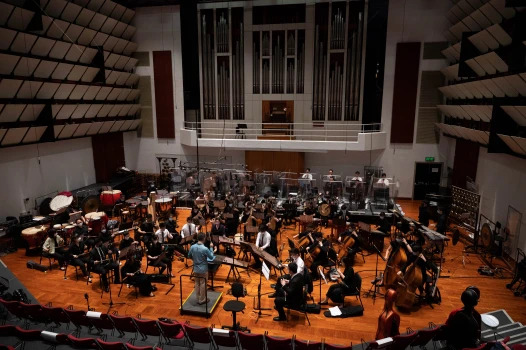 Academy Chinese Orchestra consists of students and graduates from the Department of Chinese Music of the School of Music. The Orchestra presents large-scale concerts as well as various ensemble performances such as Chinese Wind and Percussion, Zheng, Plucked String, Guangdong Music, and Percussion ensembles. Renowned composers and conductors the Orchestra has worked with include Kuan Nai-chung, Liu Wenjin, He Zhanhao, Gu Guanren, Zhao Jiping, Hu Bingxu, Yan Hui-chang, Zhou Chenglong, Ho Man-chuen, Henry Shek, Wang Huiran, Tsung Yeh, Chung Yiu-kwong, Wu Hua, Wang Yongji, Shao En, Wang Fujian, Liu Xijin, Liu Sha, Zhang Lie, Hong Xia, Chen Ningchi, Li Zhuxin, Liu Shun, Kwok Hang-kei, Qu Chunquan, Zhou Yuguo, Zhu Changyao, Fang Xiaomin, Liu Chiang-pin, Wen Feng-chao, Chew Hee-chiat, among others. The Orchestra's regular solo, ensemble and concerto concerts feature a wide range of repertoire including traditional Chinese classics, folk music, contemporary works and new commissions to composers for the Orchestra.
Academy Chinese Orchestra strives to promote the art of Chinese music to the local community and actively participate in performances on and off campus in Hong Kong. By invitations from overseas, the Orchestra performed in the UK, USA, Canada, Austria, France, Belgium, Germany, Denmark, Finland, the Netherlands, Japan and New Zealand to critical acclaim.
Ho Man-chuen is Resident Conductor of the Academy Chinese Orchestra.
Academy Choir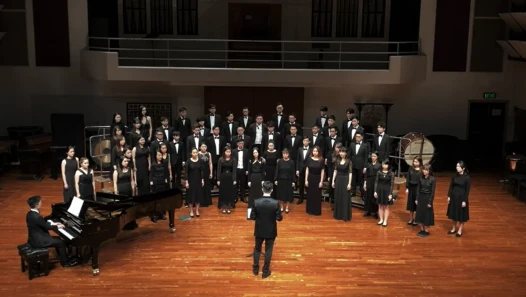 The Academy Choir of The Hong Kong Academy for Performing Arts consists of students from various music departments, including the Department of Vocal Studies. The Choir holds weekly rehearsals and performs a diverse range of choral repertoire in the Academy's departmental concerts, opera scenes, and fully staged opera productions. The Choir has also collaborated with local and overseas arts organizations. Recent engagements include Bach's Christmas Oratorio directed by Helmut Rilling with SingFest, Beethoven's Symphony No. 9 performed alongside the choir of St. Martin-in-the-Fields under the direction of Sir Neville Marriner, Purcell's Dido and Aeneas for RTHK Radio 4, and Mahler's Symphony No. 2, "Resurrection" with the Hong Kong Philharmonic Orchestra. Other major works include Handel's Messiah, Mendelssohn's Elijah, Faure's Requiem, and Beethoven's Choral Fantasy.
Wind, Brass, Percussion Ensemble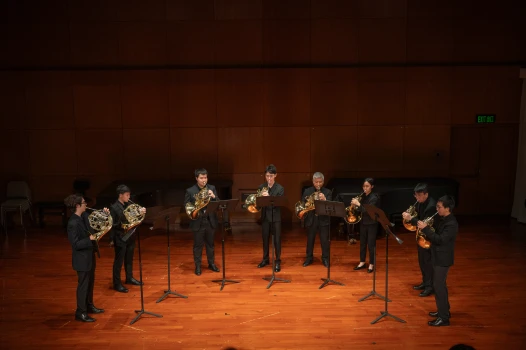 The Wind, Brass, Percussion Ensemble includes instrumental ensembles, as well as the Academy Concert Band. It provides students with the opportunity to collaborate with Academy Faculty members and participate in public performances, rehearsals, and festivals. The course places emphasis on developing ensemble skills, technique, musicianship, and musicality.
Academy Concert Band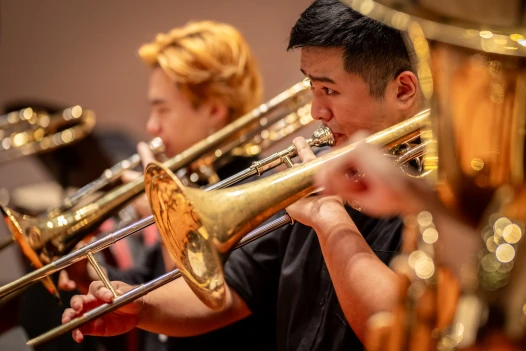 The Academy Concert Band provides a platform for students specialising in woodwind, brass, and percussion instruments to partake in the time-honoured wind band tradition. The ensemble's repertoire boasts a diverse array of musical genres, ranging from classical to contemporary and popular works. The Academy Concert Band has hosted several illustrious guest conductors, including the likes of Paul Archibald, Peter Bassano, James Gourlay, and Colin Touchen. The band has also delivered a memorable performance of Heinrich Hubler's Concerto for Four Horns alongside the Vienna Horn Ensemble. An exceptional highlight was the concert featuring the compositions of Alfred Reed, conducted by the composer himself. An impressive finale to the evening was the Hong Kong premiere of Reed's Trumpet Concerto, performed by the world-renowned Taiwanese trumpeter Yeh Shu-Han. The band has undertaken successful tours, including performances in Guangzhou by invitation from the South China University of Technology and participation in the International Horn Symposium in Denver, Colorado, collaborating with internationally acclaimed horn soloists Frank Lloyd and the American Horn Quartet.
Academy Contemporary Intercultural Ensemble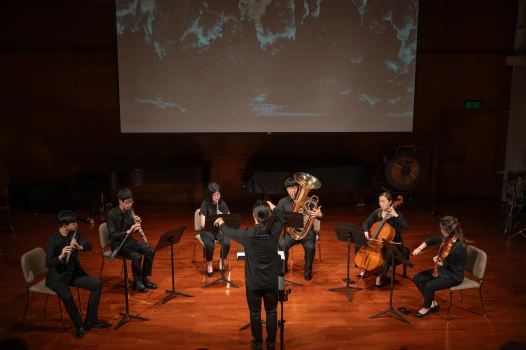 Academy Contemporary Intercultural Ensemble is a dynamic and innovative group that embraces a wide range of contemporary music styles. With a repertoire that includes famous contemporary repertoire, as well as mixed East and West music repertoire, new pieces from young composers, and cross schools' intercultural/interdisciplinary collaborations.
Chamber Music Ensembles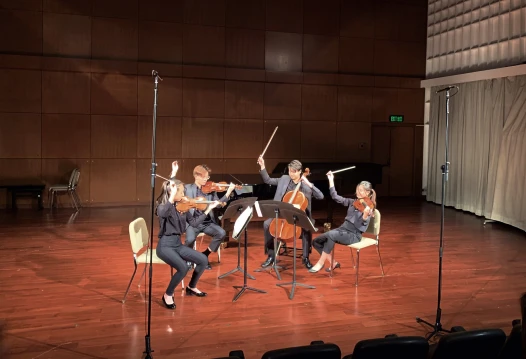 The School of Music runs an extensive chamber music programme for Western Music students. Chamber music ensembles include both standard and interdisciplinary combinations. Students are assigned to groups or form their own and receive regular coachings from faculty staff. The programme also features residencies and masterclasses given by world renowned artists. Past guests include the Orion String Quartet, Penderecki String Quartet, Miami String Quartet, Borromeo String Quartet, Endellion String Quartet, Shanghai String Quartet, and members of the Lincoln Center Chamber Music Society as well as Academy of St. Martin-in-the-Fields.
The school of music's Woodwind, Brass, and Percussion department offers a comprehensive chamber music curriculum that prioritizes ensemble skills and musicianship. The program encompasses a diverse range of repertoire and encourages interdisciplinary collaborations. Students participate in public concerts, masterclasses, competitions, and festivals, while developing listening, collaboration, and creativity skills. The department provides a rigorous and comprehensive programme that prepares students for a successful career in the music industry.
The various Chinese Chamber Music Ensembles are led by Ms. Zhang Chongxue. The diversified Chinese instrumental ensembles cultivate students' musical expressions, interpretative skills, and understanding through practising traditional classic and contemporary chamber repertoires, and attaining a diverse, all-rounded and professional level. Repertoires of the chamber ensembles include masterpieces by renowned composers and commissioned chamber pieces by composers from the Greater Bay Area. The ensembles will hold concerts and exchanges with different universities and professional ensembles.
Cantonese Ensemble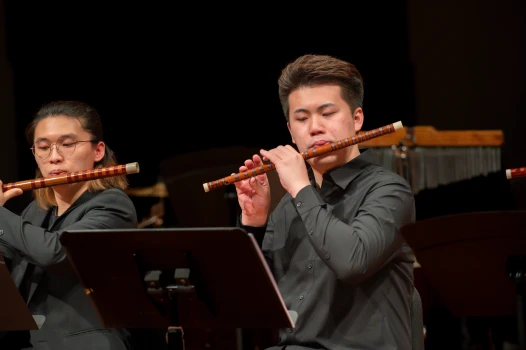 The Cantonese Ensemble was found by Prof. Yu Qiwei in 2004. The various combinations of the ensembles include "hard-bow", "soft-bow", and light musical ensembles. Practising repertoires include In Celebration of Good Times, Medley of Folk Tunes, Autumn Moon Over the Placid Lake, United We Go, A Hungry Horse Shaking Its Bells, Lovers' Sorrow, The Chanting Willows, Resentment of Zhaojun, Butterflies Among the Flowers, Billowing Waves, Stepping High, etc. Ensemble combinations such as Wujiatou (five instruments) ensemble, solo, duet, Chinese wind and percussion, as well as concertos and orchestras.
The ensemble performs representative repertoires from different historical times, styles, expressions and performing techniques in seminars and public performances.
Chinese Regional Ensemble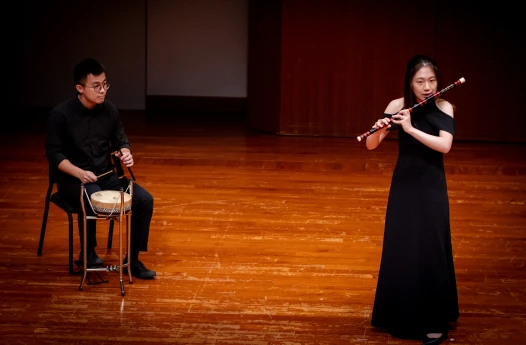 There are numerous types of musical genres and ensembles in China. In addition to the Cantonese Ensemble and Jiangnan Silk and Bamboo Ensemble currently provided by the School of Music, students are encouraged to practise in varied instrumental combinations, and to master the understanding of diverse musical styles of different regions. The ensemble holds concerts and conducts academic exchanges with music experts, universities and professional orchestras.
Jiangnan Silk Bamboo Ensemble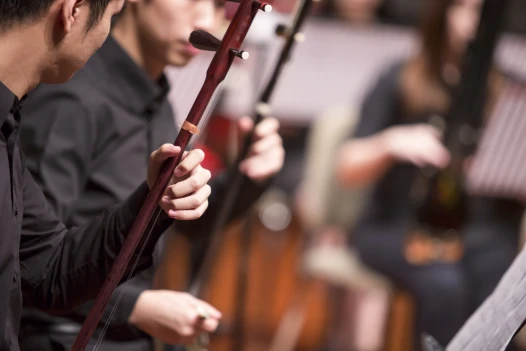 Jiangnan Silk Bamboo Ensemble is directed by Mr. Wong Chi-chung. The ensemble heightens both theories and practises of the regional genre. Through applying improvisations, students learn ensemble collaborative techniques in the instrumental group. Repertoires include the traditional Jiangnan Silk and Bamboo pieces and those written by contemporary composers.
Opera/Vocal Ensemble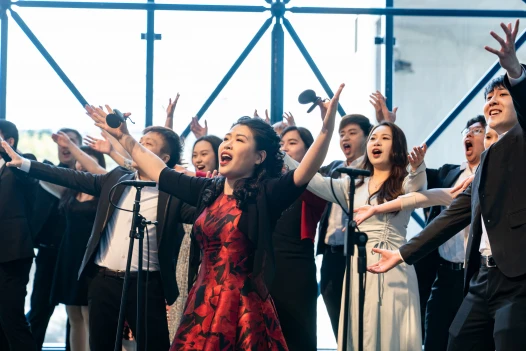 Vocal ensemble classes allow singers to hone their skills to blend and harmonize ensemble music from operas, oratorios, cantatas, madrigals, chamber music works and many more as one beautiful unanimous sound. Singers will work on duets, trios, quartets, quintets, octets and even more complex compositions from different style and genre of music. In addition to piano accompaniment, at times they will perform together with chamber music ensembles, for example, string quartets, wind/brass quintet, etc. The fine art of performing in harmony with different solo musical lines is being trained and polished.
Academy Zheng Ensemble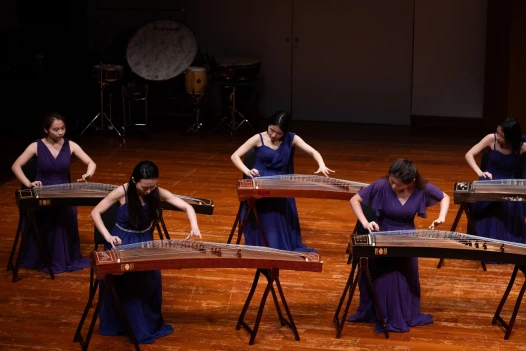 The Academy Zheng Ensemble was established in 1991 by Wang Guo-tong, former Head of the Chinese Music Department. The ensemble was set up at the same time as the Academy Chinese Orchestra to cultivate students' ensemble practice. The Zheng Ensemble holds weekly two-hour rehearsals and performs annually. The ensemble has invited composers such as Xu Xiaolin, Gu Guanren, and Zhou Chenglong to compose and arrange works, and has accumulated a number of Zheng ensemble repertoires. The ensemble was formerly under the direction of Choi Ngar-si and conductor Ho Man-chuen, and is currently directed by Professor Xu Lingzi. Members of the ensemble are undergraduate and postgraduate students majoring in zheng.
The orchestra has participated in various festivals for more than twenty years, including "A Myriad Fingers Flying" in the 2006 Hong Kong Zheng Festival, the 2008 Hong Kong International Chinese Music Festival, the 2012 "Zheng Players Show Concert", the 2014 First International Guzheng Symposium Concert, the 2014 "Zheng Master Concert", the 2015 First Silk Bamboo Chamber Music Festival, etc. In 2016, the Zheng Ensemble was invited to stay at the West Lake State Guest House in Hangzhou and performed at the "Voice of Hangzhou" New Year's Eve Concert with Japanese and mainland performers. The ensemble has also co-organised zheng concerts with music academies in China and has performed with conductors and composers such as Yan Huichang, Henry Shek, Kwok Hang-kei, and Zhou Yuguo. The Zheng Ensemble frequently collaborates with the Academy Chinese Orchestra, and performed in works including Tune of Rainbow Cloud, Sand Wash, Peacock Flying Southeast, Landscape, and other zheng concertos. The ensemble also recorded in CD albums The Heritage of Cantonese Music and A New Chapter of Chinese Musical Sounds for the 30th Anniversary of the Hong Kong Academy for Performing Arts.
Academy Jazz Ensemble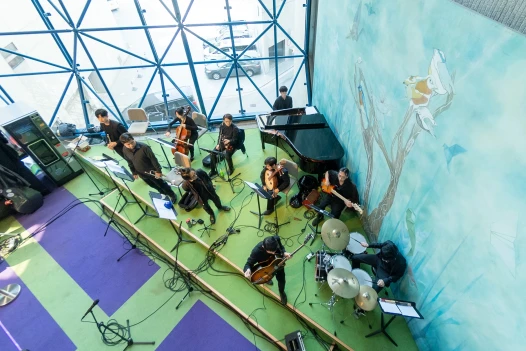 The Academy Jazz Ensemble introduces students to the techniques of performing jazz music. The ensemble also heightens the understanding of the difference between jazz and classical music, improvisation, application of jazz rhythms, and the perfoming practice in collaborating with other musicians.
Baroque Ensemble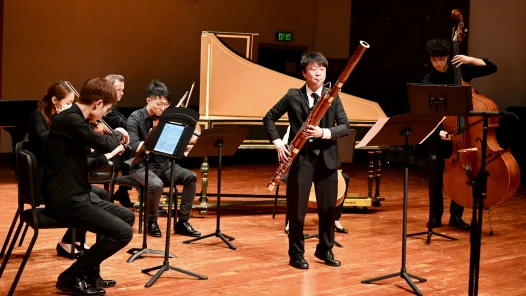 The School's collection of instrument replicas includes a single manual continuo organ, single manual harpsichord (in the Italian style), two double manual harpsichords (in the Flemish and German styles), a late eighteenth-century Viennese fortepiano and English clavichord, a five-string piccolo violoncello, as well as baroque oboes, bassoons, trumpets, flutes, six-string and seven-string violas da gambas, and a small string orchestra in baroque set-up with eighteenth-century style bows. This early instrument collection supports the courses of Concert Practice, Baroque Ensemble, Early Keyboard, Collaborative Keyboard, as well as Major Study graduation recitals, Opera Performance, and concerts by visiting artists.