Arts Accessibility Promotes Arts Inclusion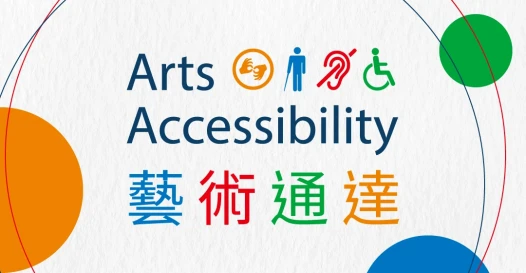 The Academy is devoted to advocate arts inclusion and promote the building of a caring society. Since 2019, the Academy signed a memorandum with Arts with the Disabled Association Hong Kong (ADAHK) to engage Arts Accessibility (AA) support in our performances and productions such as audio description, theatrical interpretation, accessible captions, pre-show touch hour, etc.; to provide AA trainings for staff, students and the general public; to support the Academy to build a barrier-free campus; and to explore opportunities for promoting art inclusion.
We believe that education and application is the key to promote arts inclusion sustainably. Therefore, with the establishment of "Creative Project Fund," we are keen to encourage our students to explore the possibilities in arts with their boundless creativity in order to create equal opporutunites for the underpriviledge to engage in perfroming arts.
We believe in "Arts are for Everyone."
Promotion of Artists with Disability Development Fund
In furtherance of the Academy's collaboration with ADAHK to encourage artistic development for people with disabilities, the Office supported ADAHK to promote the meaningful Artists with Disability Development Fund to students of the Academy. The fund aims at financing and assisting aspiring young people with disabilities for local or overseas arts studies or specific development path in the arts. Community members are also welcome to apply.
Student Recruitment and Community Engagement Office
>> About Us
>> Contact Us
srce@hkapa.edu | Phone 2584-8950 | Fax 2584-8948