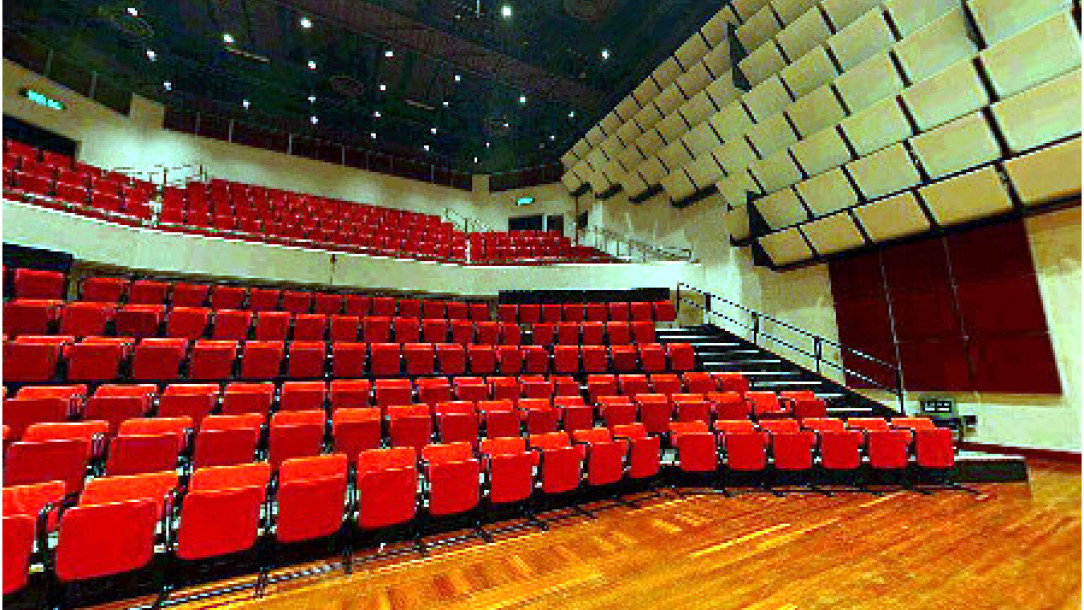 Please be advised that Musical Instruments and Furniture shown cannot be removed from the Concert Hall
Specification
Auditorium :

Raked floor: Continental seating on two levels
Full seating capacity: 382 comprising: Stalls 198, Circle 184
2 wheelchair spaces
G1 and G2 on Circle level are reserved for house usage
Stage :

Studio stage: Flat floor
Floor surface: Polished timber
Performing Area :
Suspension System :

Overhead catwalk for suspension of light objects
Get In :

Through backstage door minimum dimension: 1.8m(W) x 2m(H)
Goods lift access to all floors
** Music Equipment :

Musician chair: 100
Music stand: 90
* Musical Instruments :

2 Steinway D-274 Grand Pianos
1 Rieger Pipe Organ
1 Goble Harpsichord
Acoustic Variable :

Hall purpose-built for orchestral concerts with motorized acoustic reflectors on side walls
Projection Screen :

Rear projection screen hung on upstage overhead motor winch bar, screen size: 4.3m(W) x 3.2m(H)
Video Projector :

Panasonic PT-RZ970 DLP Laser Projector (10,000 lumens), aspect ratio 16 : 10,
native resolution: 1920 x 1200(WUXGA), permanent installed
Dressing Rooms :

* Classrooms at Foyer level can be hired to serve as dressing rooms
Performers waiting lobby at backstage
Note:
The Academy reserves the right to amend or upgrade venue facilities without notice.
* Optional equipment for which an additional daily hire charge will apply.
** These items are shared amongst several venues. Their availability for a particular hiring is at the management's sole discretion.