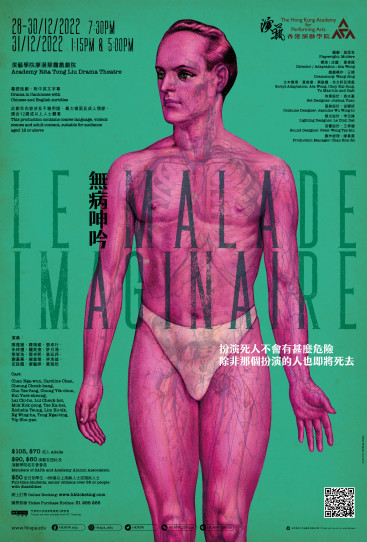 28 Dec (Wed) - 31 Dec (Sat)
28 Dec 2022 (Wed) - 30 Dec 2022 (Fri) | 19:30
31 Dec 2022 (Sat) | 13:15
31 Dec 2022 (Sat) | 17:00
Venue:
Rita Tong Liu Drama Theatre
Language:
Drama in Cantonese with English and Chinese surtitles
Presenter:
The Hong Kong Academy for Performing Arts
Remarks:
The production contains coarse language, violent scenes and adult content, suitable for audience aged 12 or above.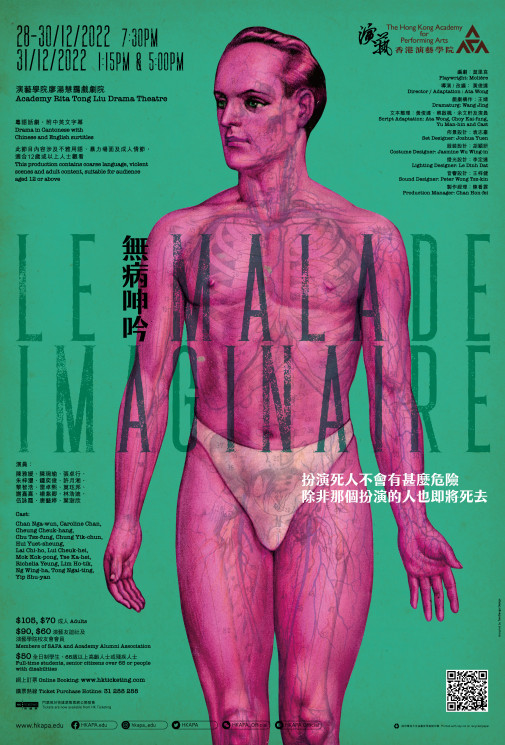 The story begins in a corner of the world, where Kong Kwok-hing lives as a hypochondriac. He is physically healthy, yet believes himself to be mortally ill. Many unconscionable doctors exploit Kong, milking his weakness on the pretext of treating him. His health is the last thing on their mind. One day, a miracle doctor appears. Will Kong be cured?
Playwright: Molière
Director/Adaptation: Ata Wong
Dramaturg: Wang Jing
Script Adaptation: Ata Wong, Choy Kai-fung, Yu Man-hin and Cast
Composers / Musicians:Cheng Sik-nam, Leung Hei-na
Set Designer : Joshua Yuen
Costume Designer : Jasmine Wu Wing-in
Lighting Designer : Le Dinh Dat
Sound Designer : Peter Wong Tsz-kin
Production Manager : Chan Hon-fei
Cast: Chan Nga-wun, Caroline Chan, Cheung Cheuk-hang, Chu Tsz-fung, Chung Yik-chun, Hui Yuet-sheung, Lai Chi-ho, Lui Cheuk-hei, Mok Kok-pong, Tse Ka-hei, Richelia Yeung, Lim Ho-tik, Ng Wing-ha, Tong Ngai-ting, Yip Shu-yan