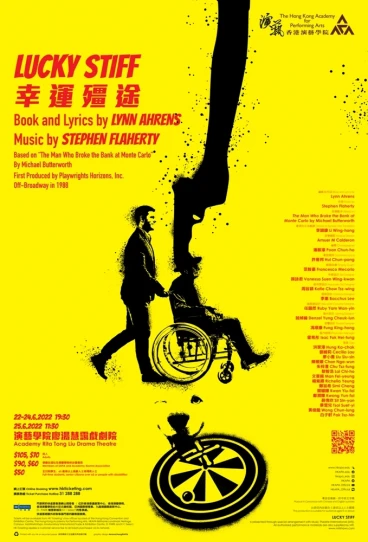 22 Jun (Wed) - 25 Jun (Sat)
22 Jun 2022 (Wed) | 19:30
23 Jun 2022 (Thu) | 19:30
24 Jun 2022 (Fri) | 19:30
25 Jun 2022 (Sat) | 11:30
Venue:
Rita Tong Liu Drama Theatre
Language:
Musical in Cantonese with Chinese and English surtitles
Presenter:
The Hong Kong Academy for Performing Arts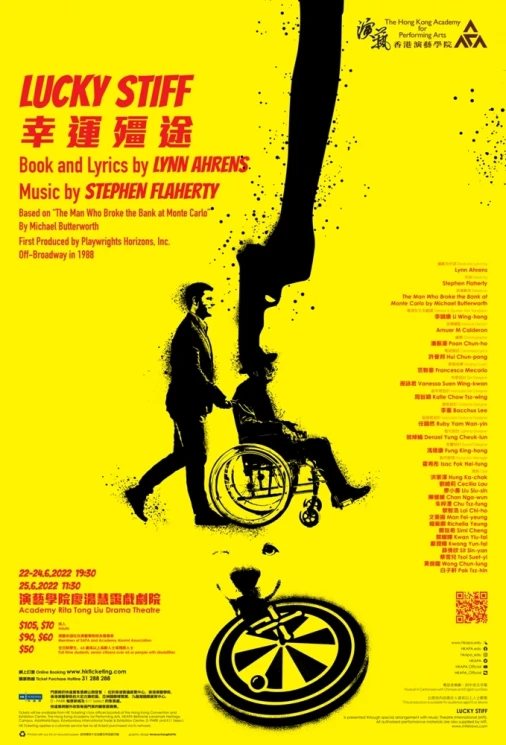 Written by Tony Award-winning team, Lynn Ahrens and Stephen Flaherty's Lucky Stiff, is a musical comedy with a tuneful score that keeps audience laughing while guessing.
An unassuming English shoe salesman, Harry Witherspoon is set to inherit six million US dollars from his late uncle who he's never met, but only if he succeeds in taking his dead body on a vacation to Monte Carlo. If not, the money goes to the Universal Dog home of Brooklyn……or else his uncle's crazy ex.
Book and Lyrics by: Lynn Ahrens
Music by: Stephen Flaherty
Based on : The Man Who Broke the Bank at Monte Carlo by Michael Butterworth
Director & Spoken Text Translation: Li Wing-hong
Musical Director: Amuer M Calderon
Singing & Voice Coach: Francesco Mecorio
Choreographer: Poon Chun-ho
Cantonese Lyrics: Hui Chun-pong
Set Designer : Vanessa Suen Wing-kwan
Associate Set Designer : Katie Chow Tsz-wing
Costume Designer : Bacchus Lee
Associate Costume Designer : Ruby Yam Wan-yin
Lighting Designer : Denzel Yung Cheuk-lun
Sound Designer : Fung King-hong
Production Manager : Isac Fok Hei-tung
Cast: Hung Ka-chak, Cecilia Lau, Liu Siu-sin, Chan Nga-wun, Chu Tsz-fung, Lai Chi-ho, Man Fei-yeung, Richelia Yeung, Simi Cheng, Kwan Yiu-fai, Kwong Yun-fai, Sit Sin-yan, Tsoi Suet-yi, Wong Chun-lung, Pak Tsz-hin