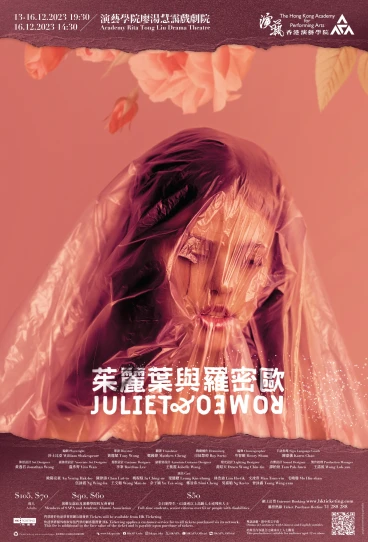 13 Dec (Wed) - 16 Dec (Sat)
13 Dec 2023 (Wed) - 16 Dec 2023 (Sat) | 19:30
16 Dec 2023 (Sat) | 14:30
Venue:
Rita Tong Liu Drama Theatre
Presenter:
The Hong Kong Academy for Performing Arts
Remarks:
This production is suitable for audience aged 12 or above.
War between two powerful clans of Verona has turned the city into a battleground. The story of two lovers and their passionate love sprouting regardless of their family rivalry. Can love really conquer hate? Can their pure form of love blossom and flower?
Playwright: William Shakespeare
Director: Tony Wong
Translator: Matthew Cheng
Choreographer: Henry Shum
Sign Language Coach: Karen Chan
Co-Set Designers: Vito Wan, Jonathan Wong
Associate Set Designer: Vito Wan
Costume Designer: Bacchus Lee
Associate Costume Designer: Jobelle Wang
Lighting Designer: Draco Wong Chiu-tin
Sound Designer: Tam Pak-huen
Production Manager: Wong Lok-yau
Cast: Au Yeung Hak-ho, Chan Lut-to, Iu Ching-ue, Leung Kin-chung, Lim Ho-tik, Man Tsun-yin, Mo Hiu-shan, Ng Wing-ha, Wong Man-to, Yu Tsz-wing, Simi Cheng, Ng Ka-to, Tsang Wing-yam