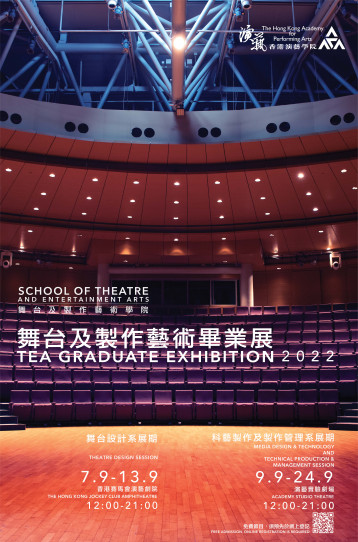 07 Sep (Wed) - 24 Sep (Sat)
07 Sep 2022 (Wed) - 13 Sep 2022 (Tue)
(Full)
09 Sep 2022 (Fri) - 24 Sep 2022 (Sat)
(Full)
Venue:
HK Jockey Club Amphitheatre, Academy Studio Theatre
Duration:
07.09.2022 - 13.09.2022 and 09.09.2022 - 24.09.2022 | 12 noon - 9pm
Presenter:
The Hong Kong Academy for Performing Arts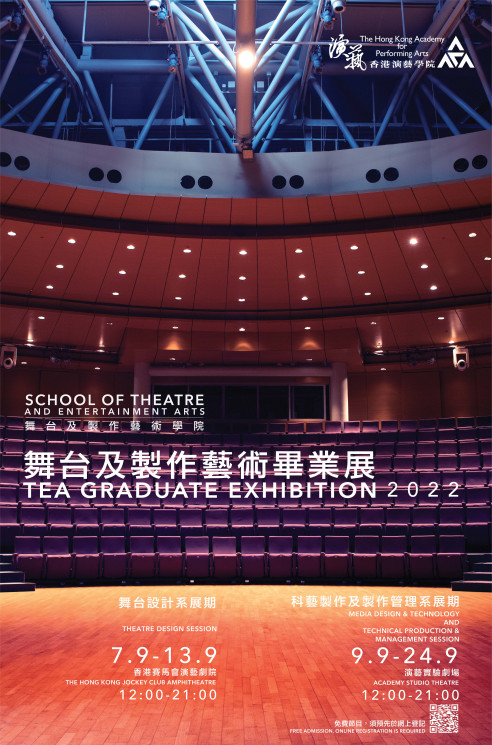 TEA Graduate Exhibition: Spotlight on Backstage
Every stage production requires a host of effects, such as set, lighting and sound, to bring out the essence of the play. Specially designed and crafted by the production team, the set, props, costume, lighting and sound effects are original responses to a range of artistic, technical and craft challenges.
The School of Theatre and Entertainment Arts (TEA) organises the Graduate Exhibition every year to display students' creative works, allowing visitors to take a close look at the exhibits to understand their design concepts and features. The Exhibition also serves as a platform to connect the graduands with industry professionals and public, showcasing their artistry and craftsmanship to potential employers as they prepare to embark on their career.
This year, the Exhibition will have two sessions to cover the School's three Departments: the first session (Sep 7 – 13) is for the Theatre Design Department, and the second session (Sep 9 – 24) is for the Media Design & Technology Department and the Technical Production & Management Department. Exhibits on display will include works that were created for the Academy's major productions in collaboration with the Schools of Chinese Opera, Dance, Drama, and Music. Come and be fascinated by the creativity of talented TEA students!
Online Registration links:
First session (Department of Theatre Design): https://forms.gle/9ePRwhy3kAAs9YKz5 (starting from 19 August)
Second session (Departments of Media Design & Technology and Technical Production & Management): https://forms.gle/S8rxsWT712JNXEKy9 (starting from 2 September)