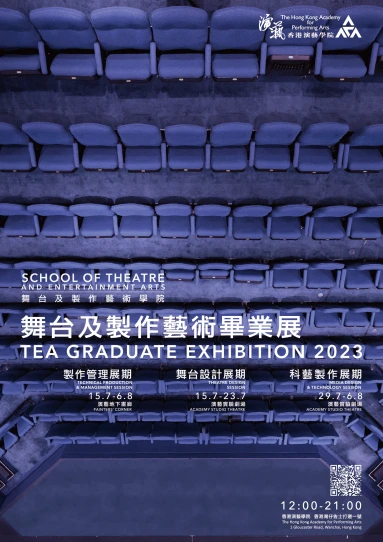 15 Jul (Sat) - 06 Aug (Sun)
15 Jul 2023 (Sat) - 06 Aug 2023 (Sun) | 12:00 - 21:00
15 Jul 2023 (Sat) - 23 Jul 2023 (Sun) | 12:00 - 21:00
29 Jul 2023 (Sat) - 06 Aug 2023 (Sun) | 12:00 - 21:00
TEA Graduate Exhibition 2023
Venue:
Academy Ground Floor Painters' Corner, Academy Studio Theatre
Presenter:
The Hong Kong Academy for Performing Arts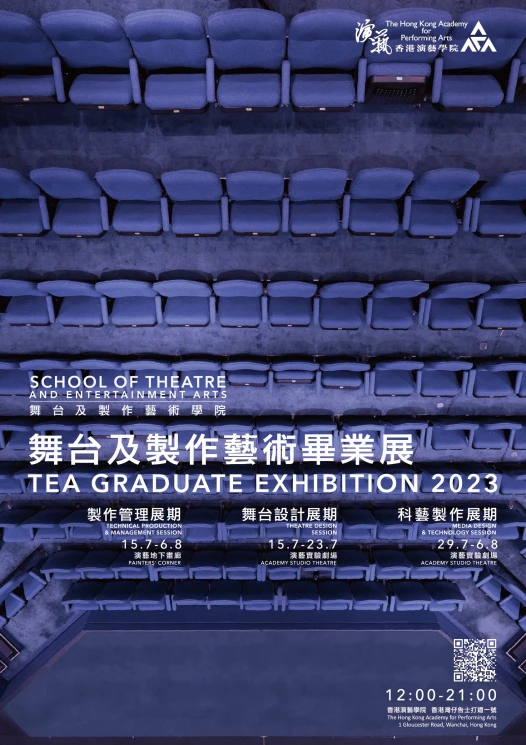 TEA Graduate Exhibition: Spotlight on Backstage

Each meticulously crafted stage performance is a delicate art piece managed by a backstage team to create vivid and marvelous stage effects and performances. From theatre set design, costumes, props, and scenography to stage technology and management, each element results from creative genius, reflecting the team's imagination, artistry, and wisdom.
Every year, the School of Theatre And Entertainment Arts holds graduate exhibitions, showcasing the learning achievements and talents of the graduating class through creative works and techniques to exchange with the public and industry professionals. The exhibition will feature a variety of artworks, including stage productions from the Academy, such as drama, dance, opera, and music. We cordially invite you to come and discover the rising stars of the School of Theatre And Entertainment Arts, also the future leaders of the performing arts industry.
Technical Production & Management Department Graduate Exhibition: 15 – 6 Aug 2023
Venue: Academy Ground Floor Painter's Corner
Theatre Design Department Graduate Exhibition: 15 – 23 Jul 2023
Venue: Academy Studio Theatre
Media Design & Technology Department Graduate Exhibition: 29 Jul – 6 Aug 2023
Venue: Academy Studio Theatre