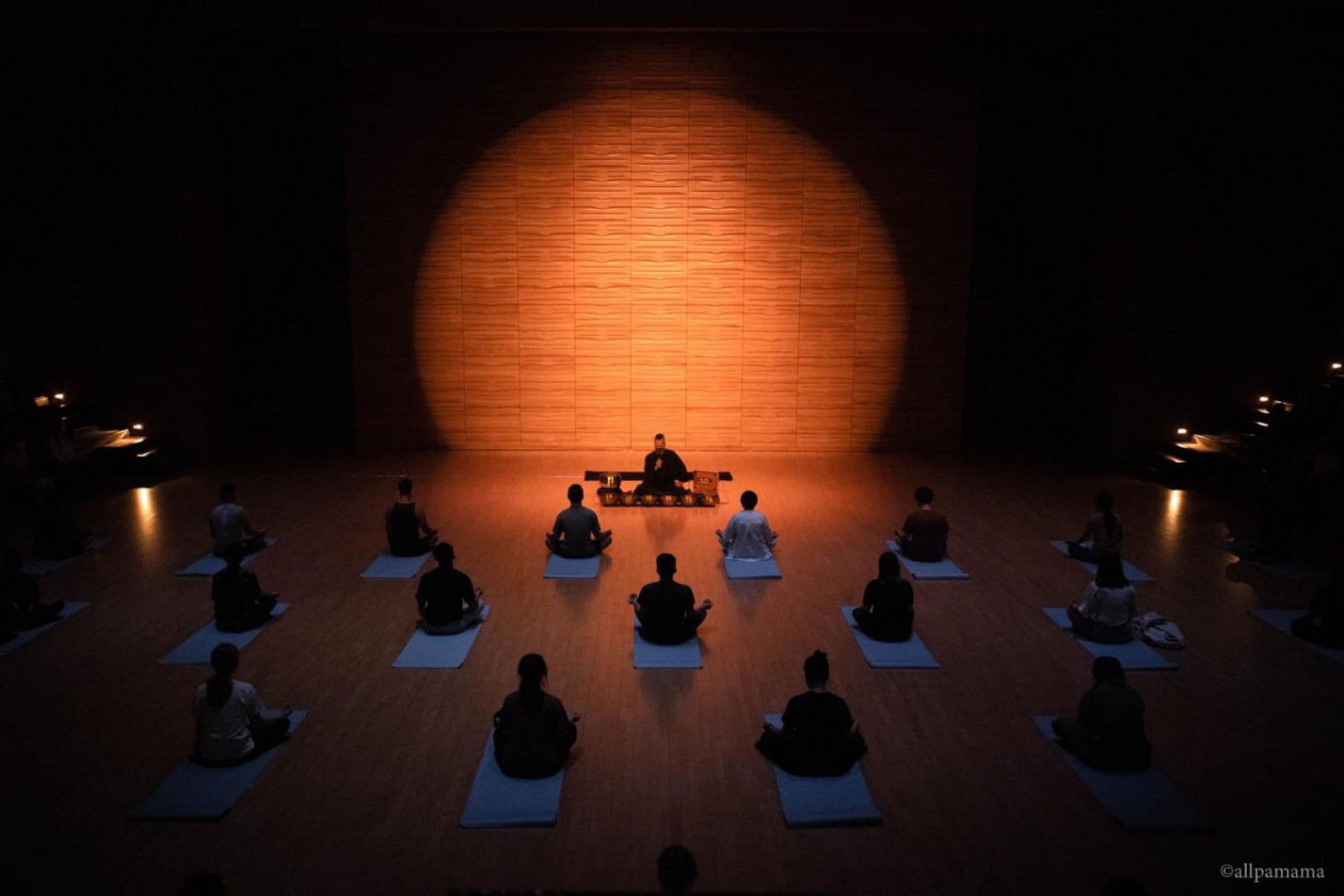 Due to the social unrest and pandemic, people in Hong Kong have been facing different unexpected stress and emotional disturbance in recent years. With the heart to promote mental wellbeing with arts, San Kwong together with her classmates of Stage and Event Management from the School of Theatre and Entertainment Arts (TEA) organised "PAUSE – Sound Therapy Workshop" on 4 and 5 Aug 2021 for general public and people with special needs. With the support of the JK & Ingrid Lee Foundation Creative Project Fund, notable TEA alumnus Mr Tsang Man-tung was invited to lead 80 participants in these two days to experience a moment of peace and relaxation using singing bowls, breathing exercises and physical stretching in Amphitheatre.
The team shared that they had made an effort to analyse the needs of different audiences and to research on how to help engage them to release stress in the workshop. For example, they consulted their accessibility partner, Arts with the Disabled Association Hong Kong, and their supporting organisation, the Mental Health Association of Hong Kong, for the different precautions and measures required for people recovering from mental illness and people with visual impairment. The singing bowl artist praised the team for applying what they have learnt to produce an event that was smoothly coordinated so that he could focus on leading the participants to enjoy the workshop. One visually impaired participant revealed that she was surprised by the power of sound produced by the singing bowls, which was very different from what she heard in the city or nature. Other participants were also impressed that they could have a chance to take a break from daily life and appreciate music with a pure heart.
Taking a step forward to share arts with others and the needy is not difficult. With the support of the Fund, we look forward to encouraging more students of the Academy to devote themselves into caring the needy with what they learn and what they love.