Transforming anxiety energy into multimedia art

Whether they are aware or not, people from all walks of life experience the omnipresent pressure from their living environment, society and even the world while they struggle through different difficulties. Life is not easy, and living in a bustling city like Hong Kong can make things even worse. Due to recent societal changes and the still-lingering pandemic, we have seen an increase of population suffering from anxiety, and it is obvious that mental health of Hong Kong people is significantly impacted.
Leo Cheng, Billy Ng and Cherry Vong, senior students of School of Music majoring in composition and electronic music, had the chance to explore music, multimedia communications and music therapy during their study and discovered how music can lead to positive psychological changes. Creative Project Fund supported by JK and Ingrid Lee Foundation has sponsored them to launch a multimedia and cross-disciplinary project, City and You which aimed at arousing public awareness of anxiety. They formed a team of students and alumni from Schools of Music, Dance, Film and Television, and Theatre and Entertainment Arts to stage a multimedia concert presenting their own music compositions with visual (video, lighting arrangement and dance) and audio (music and sound arrangement) presentations.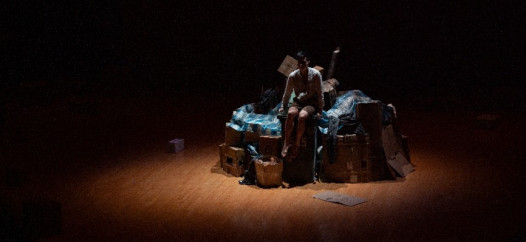 The concert took the audience to a journey of understanding anxiety and discovering how anxiety affects their body and mind. It expressed anxiety in three parts. The first part "Submerge Your Senses into the Noise" uses electronic music and video to present the causes of anxiety in the city and let the audience feel the tension of anxiety. The second part "Sink" presents a music and dance performance which shows the interaction of people's emotions on the surface and their inner struggling emotions. The third part "Break free" and "Off the Leash" features music, dance and singing focusing on anxiety relief and seeking help.
In the Q&A session after the performance, the team discussed their creative concept and their perspective on anxiety, and Dr. Ng Wai-man, a registered Music Therapist and GIM Therapist, introduced briefly music therapy and how music facilitated the inner-self discovery. Meanwhile, members of the audience also expressed their appreciation for the team's performances and efforts and revealed their interests in music and anxiety. The team hoped that anxiety can be better understood and artistically transformed into encouraging power for moving forward.
We believe in the power of art that can empower and transform people. We look forward to seeing more students to produce life-inspiring projects for a better future.