Content to start
Béthanie Theatre
Auditorium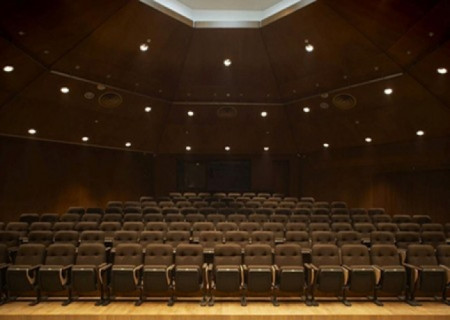 Raked floor, continental seating in one level
Seating capacity: 153
Wheelchair spaces can be provided
Stage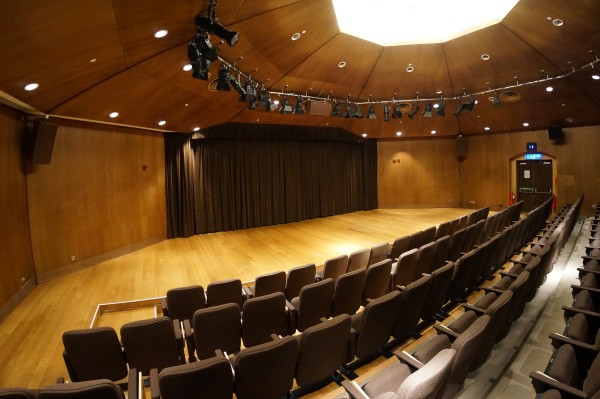 Studio stage; flat floor
Floor surface - polished timber
Performing Area
Stage depth: 4.5m D
Stage width: forestage 11m W, upstage 9m W
Suspension System
One fixed octagonal shape lighting bar within stage and auditorium overhead
Get In
Through auditorium right, minimum dimension: 1.2m W x 2m H
Stage Equipment
10' step ladder x 1
Wenger Musician Chair x 15 nos.
Wenger Music Stand x 15 nos.
Lighting
Control
Located in room at rear of auditorium
Console
ETC Express 24/48 control with ETC Sensor CEM Dimmers System, 48 channels, 48 x 3kW dimmers
Mains patch individually
Luminaires
Permanent Concert Lighting above performing area:

ETC Source Four 750W 36° x 15
ETC Source Four PARNel 750W x 20
Lighting Positions
One fixed octagonal shape lighting bar within stage and auditorium for suspension of light objects
Lighting bar height: 4.25m H from stage floor
Sound
Control
Located in room at rear of auditorium
House Console
Mackie Onyx 1640 16-channel analogue console with 4 groups, 6 aux sends and main outputs
Signal Processing Equipment
Klark Teknik DN410 parametric equalizer
Rane ME60 1/3 Oct equalizer
dbx 1046 quad compressor / limiter
Yamaha SPX2000 multi-effect unit
Playback Equipment
Marantz PMD331 CD player
Tascam MD350 Mini-Disc player
Microphones
Dynamic: Audix OM6
Condenser: AKG C451E; Sennheiser e865
Wireless Microphones
Sennheiser ew500 series radio system, with e865 condenser capsule handheld microphones
Fixed House PA System
EAW MK2394 2-way full range as main L, R and cluster with Yamaha programmable parametric EQ
Communication
Colour CCTV monitor viewing stage at control room
Colour CCTV monitor in Exhibition Area for latecomers
Projection
Control
Located in room at rear of auditorium
Projection Screen
Front projection screen permanent installed on upstage, screen size: 6.4m(W) x 2.7m(H)
With adjustable black masking and motorized curtain
Video Projector
Panasonic DLP PT-DW6300 projector(6000 lumens), aspect ratio 16 : 10, HD ready, ceiling mounted in control room
With zoom lens x 1, throw ratio (2.4 - 3.8 : 1)
Video Playback Equipment
Pioneer DV 989AVi-G DVD player
Sony BDP-S1500 Blu-ray Disc Player
HTPC Video Playback System
Surround processor
Denon DN-A7100 AV Surround Preamplifier
Other Facilities
Dressing Rooms
2 dressing rooms at backstage and equip with access codes locks
DR1 for 5 persons and DR2 for 6 persons
Shower and toilet in each room
Download
Bethanie Theatre Seating Plan
(PDF)

Bethanie Theatre Technical Drawing
(PDF) / (Autocad drawing)

Bethanie Theatre General Information
(PDF)
Note:
The Academy reserves the right to amend or upgrade venue facilities without notice.