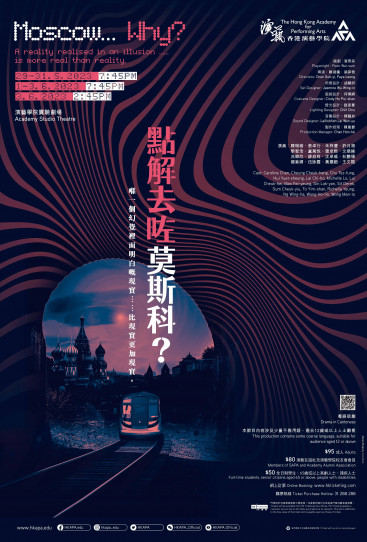 29 May (Mon) - 03 Jun (Sat)
29 May 2023 (Mon) - 31 May 2023 (Wed) | 19:45
01 Jun 2023 (Thu) - 03 Jun 2023 (Sat) | 19:45
03 Jun 2023 (Sat) | 14:45
Presenter:
The Hong Kong Academy for Performing Arts
Remarks:
This production contains some coarse language, suitable for audience aged 12 or above.
A reality realised in an illusion ...... is more real than reality.
A boy and a girl, both living in 21st century Hong Kong, have never met before. They fall asleep at the same time while taking the MTR and wake up in a railway carriage heading towards Moscow in 19th century Russia. They soon discover that they are stuck on the train and have no choice but to let it take them wherever it is going. As they make various stops along the way, they begin to realise that they are on a Chekhovian journey, where Chekhov's 19th century Russia providing echoes of their hometown. Somehow, the reality in illusion that they realise throughout the journey seems more real than the reality of their own.
Playwright: Poon Wai-sum
Directors: Chan Suk-yi, Faye Leong
Set Designer: Jasmine Wu Wing-in
Costume Designer: Cindy Ho Pui-shan
Lighting Designer: Chill Chiu
Sound Designer: Laifishfish Lai Wan-yu
Production Manager: Chan Hon-fei
Cast: Caroline Chan, Cheung Cheuk-hang, Chu Tsz-fung, Hui Yuet-sheung, Lai Chi-ho, Michelle Lo, Lui Cheuk-hei, Man Fei-yeung, Sin Lok-yan, Sit Derek, Sum Cheuk-yiu, To Yim-shan, Richelia Yeung, Ng Wing-ha, Wong Ho-tin, Wong Man-to